Saraswati Aarti Lyrics, Video & Translation
Saraswati is the Hindu goddess of learning and wisdom. She is normally represented as fair-skinned, dressed in white and standing or sitting on a white lotus or swan. In this post, we will be covering the Saraswati Aarti lyrics and translation.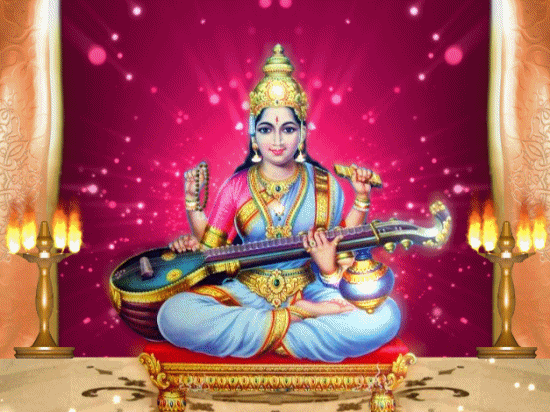 She is usually represented with four arms, one holding a string of beads, one holding a book and the other two holding or playing the sitar.
Saraswati Aarti Lyrics Video
Saraswati Aarti Lyrics In Devanagri
आरती श्री सरस्वती जी
जय सरस्वती माता, मैया जय सरस्वती माता।
सदगुण वैभव शालिनी, त्रिभुवन विख्याता॥
जय सरस्वती माता॥
चन्द्रवदनि पद्मासिनि, द्युति मंगलकारी।
सोहे शुभ हंस सवारी, अतुल तेजधारी॥
जय सरस्वती माता॥
बाएं कर में वीणा, दाएं कर माला।
शीश मुकुट मणि सोहे, गल मोतियन माला॥
जय सरस्वती माता॥
देवी शरण जो आए, उनका उद्धार किया।
पैठी मंथरा दासी, रावण संहार किया॥
जय सरस्वती माता॥
विद्या ज्ञान प्रदायिनि, ज्ञान प्रकाश भरो।
मोह अज्ञान और तिमिर का, जग से नाश करो॥
जय सरस्वती माता॥
धूप दीप फल मेवा, माँ स्वीकार करो।
ज्ञानचक्षु दे माता, जग निस्तार करो॥
जय सरस्वती माता॥
माँ सरस्वती की आरती, जो कोई जन गावे।
हितकारी सुखकारी ज्ञान भक्ति पावे॥
जय सरस्वती माता॥
जय सरस्वती माता, जय जय सरस्वती माता।
सदगुण वैभव शालिनी, त्रिभुवन विख्याता॥
जय सरस्वती माता॥
Saraswati Aarti Lyrics In Hindi
Om jai saraswati mata, jai jai saraswati mata
Sadgun vaibhav shalini, tribhuvan vikhyata
Jai jai saraswati mata
Chandravadani padmasini dyuti mangal kaari
Sohe shubh hans sawaari, atul tej dhaari
Jai jai saraswati mata
Baaye kar mein veena, daaye kar mala
Sheesh mukut mani shohe, gale motiyan mala
Jai jai saraswati mata
Devi sharan jo aaye, unka uddhar kiya
Baithi manthra dasi, rawan sanhar kiya
Jai jai saraswati mata
Vidya gyan pradayini, jag mein gyan prakash bharo
Moh aur agyan timir ka jag se nash karo
Jai jai saraswati mata
Dhoop deep fal meva, man swikaar karo
Gyanchkshu de mata , jag nistar karo
Jai jai saraswati mata
Maa sarswati ji aarti jo koi nar gave
Hitkari shukhkari gyan bhakti pave
Jai jai saraswati mata